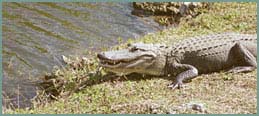 Our six passenger airboat tours offer a choice or
combination of a ride to a historic island and/or
into the back country. See dolphin, alligators, manatees, wild boar and other wildlife. A photographer's paradise.
Prices: One hour ride - $30 per adult.
1.5 hour ride - $45 per adult.
Children under 11 - 1/2 price.
Exclusive Everglades EcoTour: Choose from a half-day or full-day event for this adventure designed for anyone truly interested experiencing the Everglades or Coastal Everglades. Experience the exotic wildlife and scenery under the tutelage of a captain who also is a wild life educator aboard a 24-foot skiff designed for the shallow waters.
Prices: 6-Passengers - 3-Hour Excursion: $315; 6-Hour Excursion $475 (excludes Park fees when applicable).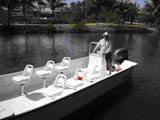 We offer scenic and wildlife tours on 300 acres of
private land in the Everglades. Your choice of a swamp buggy tour and / or airboat tour.There is an animal sanctuary with crocodiles and Florida Panthers.
Prices (including taxes) range from $16.96 to $42.49 per adult and for children (ages 4-12) from $13.78 to $33.92.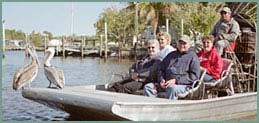 We offer half day and full day 'Safari Wagon" tours where you are driven by an experienced eco-trained guide who will provide informative narration throughout the tour. Your safari includes an airboat ride (1/2 day) and / or a jungle cruise (full day). The full day tour includes lunch and visit to an historical museum.
Prices: Half- day tour - $65 per adult, $49 for children 4-12. Full- day tours - $99/per adult, $69 for children ages 4 to 12.